УДОСКОНАЛЕННЯ АГРЕГАТИВНОЇ МОДЕЛІ СКЛАДНИХ ГАЗОТРАНСПОРТНИХ СИСТЕМ З МЕТОЮ АНАЛІЗУ БАГАТОРІВНЕВИХ СКЛАДНИХ ГАЗОПРОВІДНИХ МЕРЕЖ
Keywords:
unsteady flow, complicated gas transportation systems, aggregate-imitational method
Abstract
The aggregate-imitational method of complicated gas transportation systems calculation was improved. New types of aggregates were introduced, which gives a possibility produce high-level complicated gas transportation systems calculation. This method is appropriate to produce the steady state and transient gas transportation system regimes calculation
Downloads
Download data is not yet available.
References
1 Грачев В.В. Динамика трубопроводных систем / В.В.Грачев, С.Г.Щербаков, Е.И.Яков-лев. – М.: Наука, 1987. – 438 с.
2 Яковлєв Є.І. Режими газотранспортних систем / Є.І.Яковлєв, О.С.Казак, В.Б.Ми-халків та ін. – Львів: Світ, 1992. – 172 с.
3 Бусленко Н.П. Моделирование сложных систем / Н.П.Бусленко. – М.: Наука, 1968. –
356 с.
4 Васильев О.Я. Неизотрермическое течение газа в трубах / О.Я.Васильев, Э.А.Боднарев, А.Ф.Воеводин. – Новосибирск: Наука, 1978. – 128 с.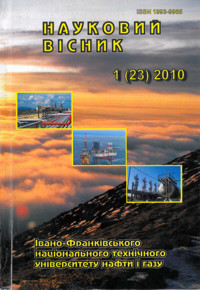 Downloads
How to Cite
Тимків, Д. Ф., & Мельниченко, Ю. Г. (2010). УДОСКОНАЛЕННЯ АГРЕГАТИВНОЇ МОДЕЛІ СКЛАДНИХ ГАЗОТРАНСПОРТНИХ СИСТЕМ З МЕТОЮ АНАЛІЗУ БАГАТОРІВНЕВИХ СКЛАДНИХ ГАЗОПРОВІДНИХ МЕРЕЖ. Scientific Bulletin of Ivano-Frankivsk National Technical University of Oil and Gas, (1(23), 96–100. Retrieved from https://nv.nung.edu.ua/index.php/nv/article/view/66
Section
ТRANSPORT AND STORAGE OF OIL AND GAS
License
Авторські права....