Вивчення порового простору порід-колекторів міоценових відкладів Більче-Волицької зони за даними ртутної порометрії та опису шліфів
Abstract
Information about the geological structure of breeds-collectors enables to conduct quantitative estimation of their filtration-capacity properties. At this article by authors for the study of geological structure of miocen sediments of the Bilche-Volitscoi area complex approach the method of mercury porometrii lies in the basis of which is taken. Simultaneously, they use the result of researches of other methods. As a result of researches main factors which understate colectorsci properties of miocen deposits are set.
Downloads
Download data is not yet available.
References
1 Комплексні лабораторні дослідження
низькоомних порід колекторів нафтогазових провінцій України з метою підвищення досто-вірності оцінки продуктивності: Звіт про НДР / Федоришин Д.Д., Василина Р.М., Гранін О.А., Коваль Я.М. / ІФНТУНГ – Івано-Франківськ, 2005 р. – 78 с.
2 Физические свойства горнах пород и полезных ископаемых: Справочник геофізика. – М.: Недра, 1984.
3 Изучение структуры порового пространства и вторичных изменений пород-колекторов на площадях ПГО "ЗапУкргеология" для прогнозирования нефтегазоносности глубоких гризонтов: Отчет НИР / Петренко В.П. и др. ИФИНГ – Ивано-Франковск, 1988. – 149 с.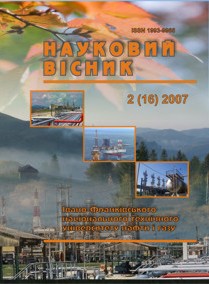 How to Cite
Федоришин, Д. Д., & Коваль, Я. М. (2007). Вивчення порового простору порід-колекторів міоценових відкладів Більче-Волицької зони за даними ртутної порометрії та опису шліфів. Scientific Bulletin of Ivano-Frankivsk National Technical University of Oil and Gas, (2(16), 5–11. Retrieved from https://nv.nung.edu.ua/index.php/nv/article/view/7
Section
GEOLOGY, PROSPECTING AND INDUSTRIAL GEOPHYSICS OF OIL AND GAS FIELDS
License
Авторські права....