КОНТРОЛЬ ЗА ЗМІНОЮ ПОЛОЖЕННЯ ВНК І ГВК З МЕТОЮ ЗАПОБІГАННЯ ОБВОДНЕННЮ ПРОДУКТИВНИХ ПЛАСТІВ У ПРОЦЕСІ РОЗРОБКИ РОДОВИЩ
Keywords:
gas-oil-water contacts, pulsed neutron-neutron logging, breeds-collectors, sediments, content of hydrogen, transi-tional zone
Abstract
In article are described the standard techniques of gas-oil-water contacts of accumulations in ferruginous sediments of oil-gas-condensate fields of the Dnipro-Donetsk depression. The analysis of the effectiveness of the methods of pulsed neutron-neutron logging (INNM) and neutron-gamma log (NGM) under control for changing the situation GWC to prevent the irrigation of layer.
Downloads
Download data is not yet available.
References
1 Дьяконова Т.Ф. Проблемы обоснова-ния водонефтяного контакта по материалам геофизических исследований скважин при построении детальных геологических моде-лей [Текст] / Т.Ф. Дьяконова, С.И Билибин, А.М. Дубина [та ін.] // Каротажник. – 2004. – № 3-4. – С. 83-97.
2 Золоева Г.М. Интерпретация данных ГИС [Текст] / Г.М. Золоева., Н.Е. Лазуткина: РГУ нефти и газа им. И.М. Губкина. – М.: Нефть и газ, 2002. – 187 с.
3 Орлинский Б.М. Контроль за обводне-нием продуктивных пластов методами промысловой геофизики [Текст] / Б.М. Ор-линский,
В.М. Арбузов. – М.: Недра, 1971. – 152 с.
4 Промысловая геофизика [Текст] /
[В.М Добрынин, Б.Ю Вендельштейн, Р.А. Резванов, А.Н. Африкян]: под ред. В.М. До-брынина, Н.Е. Лазуткиной: учеб. для вузов: РГУ нефти и газа им. И.М. Губкина. – М.: Нефть и газ, 2004. – 382 с.
5 Итенберг С.С. Интерпретация резуль-татов геофизических исследований скважин [Текст]: учеб. пособие для вузов. С.С. Итенберг – 2-е узд., перераб. и доп. – М.: Недра, 1987. – 375 с.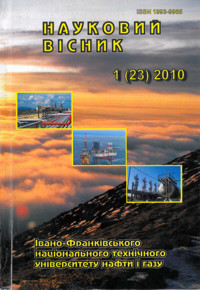 Downloads
How to Cite
Федоришин, Д. Д., & М.М.Витвицька, М. М. (2010). КОНТРОЛЬ ЗА ЗМІНОЮ ПОЛОЖЕННЯ ВНК І ГВК З МЕТОЮ ЗАПОБІГАННЯ ОБВОДНЕННЮ ПРОДУКТИВНИХ ПЛАСТІВ У ПРОЦЕСІ РОЗРОБКИ РОДОВИЩ. Scientific Bulletin of Ivano-Frankivsk National Technical University of Oil and Gas, (1(23), 23–28. Retrieved from https://nv.nung.edu.ua/index.php/nv/article/view/46
Section
GEOLOGY AND PROSPECTING OF OIL AND GAS FIELDS
License
Авторські права....