ВИЗНАЧЕННЯ РЕЖИМУ РОБОТИ ГІДРАВЛІЧНОЇ СИСТЕМИ УЛОВЛЮВАННЯ ПАРІВ ВУГЛЕВОДНІВ
Keywords:
vapor carbohydrates trapping, jet system, hydraulic imitation, oil tank
Abstract
The mathematical model of operation jet systems serving for oil and gas vapor recovery evolved in gas space of oil basins is offered in paper. The suggested technique is general-purpose for using irrespective of jet device conditions as opposed to known models and allows prediction of its performance at a design stage.
Downloads
Download data is not yet available.
References
1 Паневник О. Підвищення екологічної безпеки при експлуатації нафтових резервуарів / Олександр Паневник // Науковий вісник. –2009. – № 1(19). – С.36-40.
2 Паневник О. Дослідження умов утилізації нафтових газів / Олександр Паневник //
Науковий вісник. – 2009. – № 2(20). – С. 26-31.
3 Дерусов В.П. Обратная промывка при бурении геологоразведочных скважин /
В.П. Дерусов. – М.: Недра, 1984. – 184 с.
4 Сазонов Ю.А. Разработка устройства, снижающего дифференциальное давление на забое скважин и повышающего скорость бурения: автореф. дис. на соискание науч. степени канд. техн. наук: спец. 05.04.07 «Машины и агрегаты нефтяной и газовой промышленности » / Сазонов Юрий Алексеевич; Московский ин-т нефти и газа им. И.М. Губкина. – Москва, 1989. – 18 с.
5 Соколов Е.Я. Струйные аппараты /
Е.Я. Соколов; Н.М. Зингер. – М.: Энергоатомиздат, 1989. – 352 с.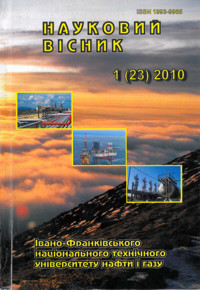 Downloads
How to Cite
Паневник, О. В. (2010). ВИЗНАЧЕННЯ РЕЖИМУ РОБОТИ ГІДРАВЛІЧНОЇ СИСТЕМИ УЛОВЛЮВАННЯ ПАРІВ ВУГЛЕВОДНІВ. Scientific Bulletin of Ivano-Frankivsk National Technical University of Oil and Gas, (1(23), 143–146. Retrieved from https://nv.nung.edu.ua/index.php/nv/article/view/91
Section
ЕКОЛОГІЧНА БЕЗПЕКА ТА РАЦІОНАЛЬНЕ ПРИРОДОКОРИСТУВАННЯ
License
Авторські права....