АНАЛІЗ ЧИННИКІВ, ЩО ВПЛИВАЮТЬ НА ФОРМУВАННЯ СТРУКТУРИ ПОТОКУ ФЛЮЇДУ В СТОВБУРІ СВЕРДЛОВИНИ ПІД ЧАС ПРОВЕДЕННЯ ВИМІРЮВАНЬ ТЕРМОКОНДУКТОМІРОМ
Keywords:
fluid, structure, flow, turbulence, discontinuous phase, emulsion, thermoconductivity, flowmeter
Abstract
In well, fluid flow structure influences the device indication of some geophysical investigation, distorting the real value of the parameter surveyed. Knowing factors, which form flow structure, will permit to allow for distorting flow influence and obtain more reliable data. Current article is dedicated to the problem of the study fluid flow structure and the different factors impact on its forming in well.
Downloads
Download data is not yet available.
References
1 Самигулин Х.К. Повышение достовер-ности и качества записей методом термокон-туктивной индикаии притока в действующих нефтегазовых скважинах / Х.К.Самигулин // Науч.-техн. вестник «Каротажник». – Тверь – 1997. –
№ 38 – С. 105–110.
2 Жувагин И.Г. Скважинный термокон-дуктивный дебитомер СТД / И.Г. Жувагин,
С.Г. Комаров, В.Б. Черный − М.: Недра, 1973. − 80 с.
3 Абрукин А.Л. Потокометрия скважин / А.Л. Абрукин − М.: Недра, 1978. − 253 с.
4 Старостін В.А. Аналіз застосування теплових перетворювачів для дослідження теплофізичних параметрів в діючих свердло-винах / В.А.Старостін // "Розвідка і розробка нафтових і газових родовищ" – Вип. 34 (Том 1) – 1997. – С. 105-114.
5 Левшина Е.С. Электрические измере-ния физических величин: (Измерительные преобразователи) : учебное пособие для ву-зов / Е.С. Левшина, П.В. Новицкий − Ленин-град : Энергоатомиздат, 1983. − 320 с.
6 Кремлёвский П.П. Расходомеры и счетчики количества / П.П. Кремлёвский − Ленинград: Машиностроение, 1989. − 710 с.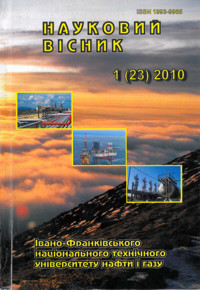 Downloads
How to Cite
Старостін, В. А., & Перегінець, О. М. (2010). АНАЛІЗ ЧИННИКІВ, ЩО ВПЛИВАЮТЬ НА ФОРМУВАННЯ СТРУКТУРИ ПОТОКУ ФЛЮЇДУ В СТОВБУРІ СВЕРДЛОВИНИ ПІД ЧАС ПРОВЕДЕННЯ ВИМІРЮВАНЬ ТЕРМОКОНДУКТОМІРОМ. Scientific Bulletin of Ivano-Frankivsk National Technical University of Oil and Gas, (1(23), 29–32. Retrieved from https://nv.nung.edu.ua/index.php/nv/article/view/50
Section
GEOLOGY AND PROSPECTING OF OIL AND GAS FIELDS
License
Авторські права....