МЕТОДИКА ОЦІНКИ УРАЖЕНОСТІ ТЕРИТОРІЙ НЕБЕЗПЕЧНИМИ ЕКЗОГЕННИМИ ГЕОЛОГІЧНИМИ ПРОЦЕСАМИ З ВИКОРИСТАННЯМ ГЕОІНФОРМАЦІЙНИХ ТЕХНОЛОГІЙ
Keywords:
dangerous exogenous geological processes, thematic map, defeat of territories, GIS, a landslip, forecasting models
Abstract
The new method of estimation of staggered of territory dangerous exogenous geological processes is offered with the use of geoinformations technologies on the example of the Ivano-Francovsk area.
The examples of construction of thematic maps of staggered of territory landslide processes are resulted for the different scales of researches and accordingly, types of presentation of the landslide phenomena.
The scientific and practical value of researches consists in that the offered method gives more reliable information for the construction of prognosis models and acceptance of administrative decisions.
Downloads
Download data is not yet available.
References
1 Ломтадзе В.Д. Инженерная геология. Инженерная геодинамика / Ломтадзе В.Д. – Л: Недра, 1977. – 479 с.
2 Гулакян К.А. Прогнозирование оползневых процессов / Гулакян К.А., Кюнтцель В.В., Постоев Г.П. – М.: Недра, 1977. – 135 с.
3 Емельянова Е.П. Основные закономерности оползневых процессов / Емельянова Е.П. – М.: Недра, 1978. – 308 с.
4 Кюнтцель В.В. Закономерности оползневого процесса на европейской территории СССР и его региональный прогноз / Кюнтцель В.В. – М.: Недра, 1980. – 213 с.
5 Методические рекомендации по составлению долгосрочных прогнозов экзогенных геологических процессов в системе государственного мониторинга геологической среды / [А.И.Шеко, Г.П.Постоев, В.С.Круподеров и др.] – М.: ВСЕГИНГЕО, 1999. – 78 с.
6 Демчишин М.Г. Современная динамика склонов на территории Украины (инженерно–геологические аспекты) / Демчишин М.Г. – К.: Наукова думка, 1992. – 253 с.
7 Ерыш И.Ф. Оползни Крыма. История отечественного оползневедения. Ч. 1. / Ерыш И.Ф., Саломатин В.Н. – Симферополь: Апостроф, 1999. – 249 с.
8 Ерыш И.Ф. Оползни Крыма. Методы изучения оползней. Ч. 2. / Ерыш И.Ф., Саломатин В.Н. – Симферополь: Апостроф, 1999. – 175 с.
9 Адаменко О.М. Екологічна геологія: підручник / Адаменко О.М., Рудько Г.І. – К.:
Манускрипт, 1998. – 349 с.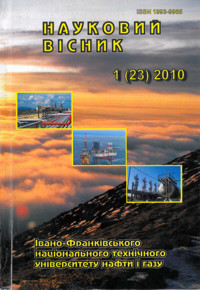 Downloads
How to Cite
Журавель, Н. В. (2010). МЕТОДИКА ОЦІНКИ УРАЖЕНОСТІ ТЕРИТОРІЙ НЕБЕЗПЕЧНИМИ ЕКЗОГЕННИМИ ГЕОЛОГІЧНИМИ ПРОЦЕСАМИ З ВИКОРИСТАННЯМ ГЕОІНФОРМАЦІЙНИХ ТЕХНОЛОГІЙ. Scientific Bulletin of Ivano-Frankivsk National Technical University of Oil and Gas, (1(23), 155–159. Retrieved from https://nv.nung.edu.ua/index.php/nv/article/view/106
Section
ЕКОЛОГІЧНА БЕЗПЕКА ТА РАЦІОНАЛЬНЕ ПРИРОДОКОРИСТУВАННЯ
License
Авторські права....