ОПТИМІЗАЦІЯ ПЕРЕРІЗУ ПРОВОДІВ ЛІНІЙ ЕЛЕКТРИЧНИХ МЕРЕЖ ПІДПРИЄМСТВ НАФТОГАЗОВОГО КОМПЛЕКСУ ЗА УМОВОЮ ЕКОНОМІЧНОСТІ
Keywords:
electric lines, lines of electricity transmissions, current economic density
Abstract
It is estimated maximum economic loading of cable lines 6-10 kV, open-wire lines 110 kV according to the criteria of the discounted charges minimum and the discounted income maximum taking into account present economic condition. It is analyzed dependence of current economic density on electricity price, electric loadings graph forms and discount charges norm.
Downloads
Download data is not yet available.
References
1 Правила улаштування електроустановок. – Харків: Форт, 2009. – 708 с.
2 ГКД-340000002-97. Методика определения экономической эффективности капитальных вложений в энергетику. – К. : Минэнерго Украины, 1997. – 103 с.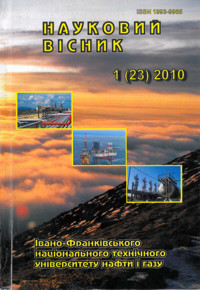 Downloads
How to Cite
Романюк, Ю. Ф., & Петрова, М. І. (2010). ОПТИМІЗАЦІЯ ПЕРЕРІЗУ ПРОВОДІВ ЛІНІЙ ЕЛЕКТРИЧНИХ МЕРЕЖ ПІДПРИЄМСТВ НАФТОГАЗОВОГО КОМПЛЕКСУ ЗА УМОВОЮ ЕКОНОМІЧНОСТІ. Scientific Bulletin of Ivano-Frankivsk National Technical University of Oil and Gas, (1(23), 101–104. Retrieved from https://nv.nung.edu.ua/index.php/nv/article/view/67
Section
CONTROL, AUTOMATICS, AND ELECTRICAL ENGINEERING
License
Авторські права....