ПРАКТИЧНІ РЕЗУЛЬТАТИ ВПЛИВУ ЕЛЕКТРИЧОГО ПОЛЯ НА РЕОЛОГІЮ НАФТИ
Keywords:
rheology of oil, influence of electric field
Abstract
A method and results of study of  influence  of alternating   electric field on  rheology  properties of   structured  oil are described. It is set that alternating    electric field substantially improves  rheology    properties of such oil. The maximal shear stress of this oil decrees   in 3 times. In addition  efficiency of action of  alternating electric field on viscidity of oil is the more than more  viscosity of such oil is. The got results  are practically important  for solving   problems of   the decision of energy-savings  of pipe-lines  transporting of  high-viscosity   petroleum products 
Downloads
Download data is not yet available.
References
1 Середюк М.Д. Трубопровідний транс-порт нафти і нафтопродуктів [Текст] / М.Д. Середюк, Й.В. Якимів, В.П. Лісафін. – Кременчук, 2001. – 517 с. іл.
2 Евдокимов И.Н. Особенности электро-физических свойств жидких уг-леводородных сред с повышенным содержанием смолисто-асфальтеновых веществ [Текст] / И.Н. Евдокимов, Н.Ю. Елисеев // Химия и технология топлив и масел. – 2001. – № 1. – С. 29-31.

3 Лесин В.И. Физико-химические основы нетеплового воздействия электромагнитных и акустических полей на нефть для предотвращения отложений парафинов [Текст] / В.И. Лесин // Нефтяное хозяйство. – 2004. – № 1. –
C. 37 – 39.
4 Очков Ф.Н. Магнитная обработка воды: история и современное состояние [Текст] /
Ф.Н. Очков // Энергоснабжение и водоподготовка. – 2006. – №2. – С.48-53.
5 Фатыхов М.А. Воздействие электромагнитного поля на процесс кристаллизации парафина [Текст] / М.А. Фатыхов, Н.Я. Багаутдинов // Нефтегазовое дело. – 2007. – №11. – С.145-155.
6 Савиных Б.В. Динамическая вязкость жидкостей в электрических полях [Текст] / Б.В. Савиных, А.А. Фасхутдинов, А.А. Муха-мадиев, А.В. Пашанин // Химия и компьютерное моделирование. – 2002. – №10. – С.204-212.
7 Овчинников П.Ф. Реология тиксотроп-ных систем [Текст] / П.Ф. Овчинников,
Н.Н. Круглицкий, Н.В. Михайлов. – К.: Наук. думка, 1972. – 120 с.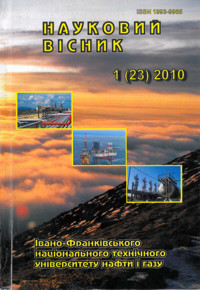 Downloads
How to Cite
Федоров, О. Є. (2010). ПРАКТИЧНІ РЕЗУЛЬТАТИ ВПЛИВУ ЕЛЕКТРИЧОГО ПОЛЯ НА РЕОЛОГІЮ НАФТИ. Scientific Bulletin of Ivano-Frankivsk National Technical University of Oil and Gas, (1(23), 92–95. Retrieved from https://nv.nung.edu.ua/index.php/nv/article/view/64
Section
ТRANSPORT AND STORAGE OF OIL AND GAS
License
Авторські права....