ОСОБЛИВОСТІ БУРІННЯ ГОРИЗОНТАЛЬНИХ СВЕРДЛОВИН У ЗОНАХ ЗАЛЯГАННЯ НЕСТІЙКИХ ГІРСЬКИХ ПОРІД
Keywords:
well, hole, sediments, zenith angle, crookedness, complications, rate of penetration
Abstract
The article stating the results of industrial investigations while drilling horizontal well in extra band rock of Bugruvativske oil field, which include functional dependence between data of deviated borehole and zenith angle, it is proposed practice recommendation by drilling of deviated borehole in extra band rock of low carbon
Downloads
Download data is not yet available.
References
1 Кунцяк Я. В. Особливості буріння по-хило-скерованих ділянок горизонтальних свердловин / Я.В. Кунцяк, Р.Я. Кунцяк // На-фтова і газова промисловість. – 2006. – №1. – С. 34-35.
2 Мочернюк Д. Ю. Дослідження впливу інтенсивності викривлення стовбура горизо-нтальної свердловини на стійкість її стінок /
Д.Ю. Мочернюк, Я.В. Кунцяк, Р.Я. Кунцяк // Науковий вісник ІФТУНГ. – 2005. – №2(11). – С. 37-41.
3 Кунцяк Я.В. Буровые растворы для сложных горно-геологических условий Ук-раины. / Я.В. Кунцяк, Ю.В. Лубан // Техноло-гии ТЭК. – Декабрь 2006. – С. 36-38.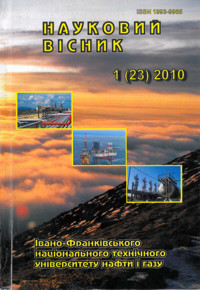 Downloads
How to Cite
Кунцяк, Я. В., & Кунцяк, Р. Я. (2010). ОСОБЛИВОСТІ БУРІННЯ ГОРИЗОНТАЛЬНИХ СВЕРДЛОВИН У ЗОНАХ ЗАЛЯГАННЯ НЕСТІЙКИХ ГІРСЬКИХ ПОРІД. Scientific Bulletin of Ivano-Frankivsk National Technical University of Oil and Gas, (1(23), 38–46. Retrieved from https://nv.nung.edu.ua/index.php/nv/article/view/53
Section
OIL AND GAS WELLS DRILLING
License
Авторські права....