НЕЙРОННА МЕРЕЖА І РЕГУЛЯТОР З ПРОГНОЗУВАННЯМ ПРОЦЕСУ КЕРУВАННЯ КАТАЛІТИЧНИМ РЕАКТОРОМ У НАФТОГАЗОВІЙ ГАЛУЗІ
Keywords:
neuron network, regulator, model, process, catalytic reactor, management, prognostication, chart, algorithm, authentication, synthesis.
Abstract
The model of process of management a catalytic reactor is worked out with permanent interfusion  as a neuron network which is used in oil is gas industry for prognostication  of conduct of this network after a receipt casual entrance signals of management. A model is investigational and conducted analysis of the got data from which evidently, that the reaction of control system on step indignations with casual amplitude fully suits to planning of the systems, as has hesitating character with the rapid enough fading (20 seconds).
Downloads
Download data is not yet available.
References
1 Беркинблит М.Б. Нейронные сети / М.Б. Беркинблит. – М.: Мирос, 1993. – 404 с.
2 Медведев В.С. Нейронные сети. MATLAB 6; под общ. ред. В.Г.Потемкина / В.С. Медведев, В.Г. Потемкин. – М.: ДИАЛОГ-МИФИ, 2002. – 496 с.
3 Soloway D. Neural Generalized Predictive Control / D. Soloway, P.J. Haley // Proceedings of the 1996 IEEE International Symposium on Intelligent Control. – 1996. – C. 277-281.
4 Гультяев А.К. Визуальное моделирование MATLAB / А.К. Гультяев. – СПб: Питер, 2000. – 432 с.
5 Потемкин В.Г. Инструментальные средства MATLAB 5.х / В.Г. Потемкин. – М.: Диалог–МИФИ, 2000. – 336 с.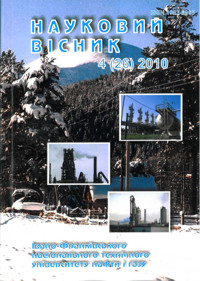 Downloads
How to Cite
Шавранський, М. В., Чигур, І. І., & Шавранський, В. М. (2010). НЕЙРОННА МЕРЕЖА І РЕГУЛЯТОР З ПРОГНОЗУВАННЯМ ПРОЦЕСУ КЕРУВАННЯ КАТАЛІТИЧНИМ РЕАКТОРОМ У НАФТОГАЗОВІЙ ГАЛУЗІ. Scientific Bulletin of Ivano-Frankivsk National Technical University of Oil and Gas, (4(26), 90–97. Retrieved from https://nv.nung.edu.ua/index.php/nv/article/view/466
Section
CONTROL, AUTOMATICS, AND ELECTRICAL ENGINEERING
License
Авторські права....