РОЗРОБЛЕННЯ РІЗЬБОВОГО З'ЄДНАННЯ НАСОСНИХ ШТАНГ З РІВНОМІРНИМ РОЗПОДІЛОМ ЗУСИЛЬ МІЖ ВИТКАМИ РІЗЬБИ
Keywords:
sucker rod, thread, intense state, effort, loading, stress
Abstract
In given paper computer modelling of a threaded connection of sucker rods in diameter of 19 mm with installed on a clutch surface a cylindrical ring with a tension is spent. Results of modelling show, that ring determination positively influences a stress distribution along threaded connection convolutions.
Downloads
Download data is not yet available.
References
1 Биргер И.А. Резьбовые и фланцевые соединения / И.А. Биргер, Г.Б. Иосилевич. – М. : Машиностроение, 1990. – 368 с.
2 http://www.ocher.ru
3 ГОСТ 13877-96. Межгосударственный стандарт. Штанги насосные и муфты штанговые. Технические условия. – Киев. Гоcстандарт Украины, 2002. – 28 с.
4 Ришмюллер Г. Добыча нефти глубинными штанговыми насосами; пер. с нем. / Г.Ришмюллер, Х.Майер. – М.: Фест-Альпине, 1988. – 151 с.
5 Персиянцев М.Н. Добыча нефти в осложненных условиях / М.Н. Персиянцев. – М.: ООО «недра-Бизнесцентр», 2002. – 653 с.
6 Муравьев И.М. Насосная експлуатация скважин за рубежом / И.М. Муравьев, И.Т. Мищенко. – М.: Недра, 1967.– 240 с.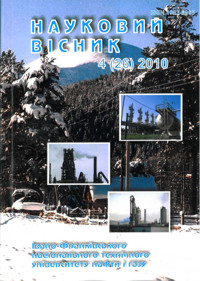 Downloads
How to Cite
Михайлюк, В. В. (2010). РОЗРОБЛЕННЯ РІЗЬБОВОГО З'ЄДНАННЯ НАСОСНИХ ШТАНГ З РІВНОМІРНИМ РОЗПОДІЛОМ ЗУСИЛЬ МІЖ ВИТКАМИ РІЗЬБИ. Scientific Bulletin of Ivano-Frankivsk National Technical University of Oil and Gas, (4(26), 61–65. Retrieved from https://nv.nung.edu.ua/index.php/nv/article/view/460
Section
НАФТОГАЗОПРОМИСЛОВЕ ОБЛАДНАННЯ
License
Авторські права....